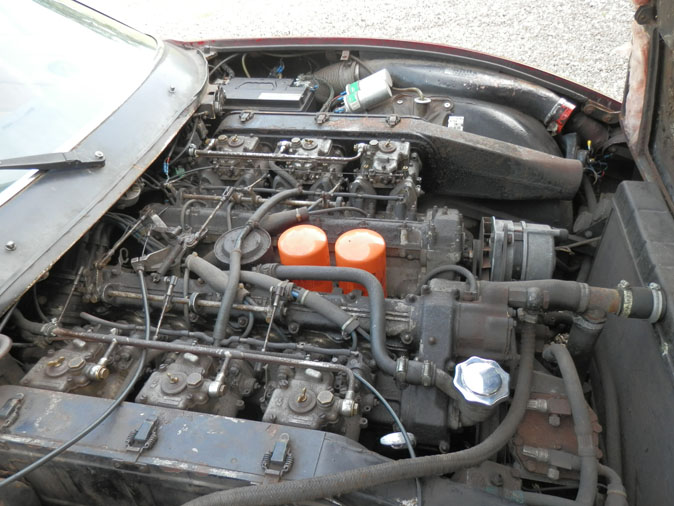 In the summer of 2009, the car was moved by trailer from the barn to a local garage as efforts to start the engine failed. A direct petrol feed was even tried because we assumed that the tank and fuel lines would be contaminated and blocked. Previously, the engine had been turned over by hand and the pistons moved freely.
At the garage, the fuel tank was removed and cleaned, new pipes and Bendix filters fitted and with the help of a new battery and a large battery booster plus a new set of plugs it was time to try to start the engine in anger. The V12 engine fired into life, sound was beautiful!!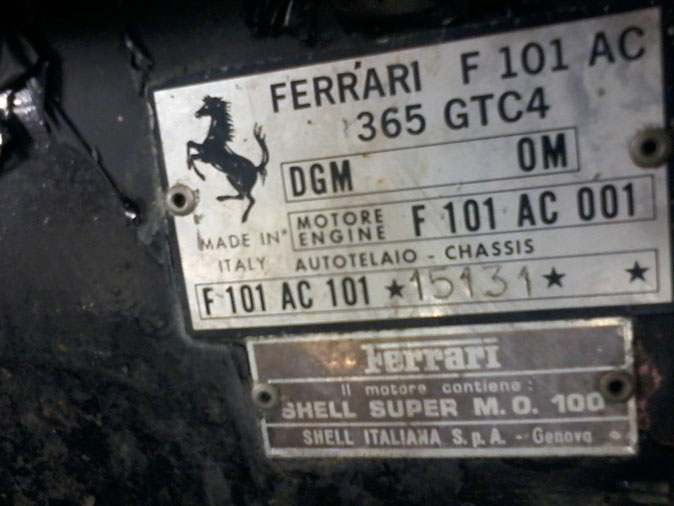 Some work needed to be carried out before presenting for an M.O.T and driving on the road. A front wing was perished and a new wing was hand formed to size and welded in place.
The braking system was seized and needed renewing. The calipers were rebuilt and the pipes renewed, the handbrake needed freeing as it was seized and a replacement cable was fitted. A new tyre was needed but the other Pirelli's were more than fit for purpose. All that was now needed was a small amount of electrical work and a headlight bulb for one of the pop up headlights.
Before presenting for the MOT test,a horn was required and a small one was acquired which was quite inappropriate for this majestic car.
On 3 February 2010, PMX 310K – Ferrari GTC/4 passed it's MOT and returned home.
Here are links to the articles in this series:
Part 6 -Bodywork, oil & water issues
Part 5– Replacement door sills and exhaust
Part 4 – Alternator, driving on the roads
Part 3 – Engine, front wing, braking system, MOT
Part 2 – Car history
Part 1 – Introduction