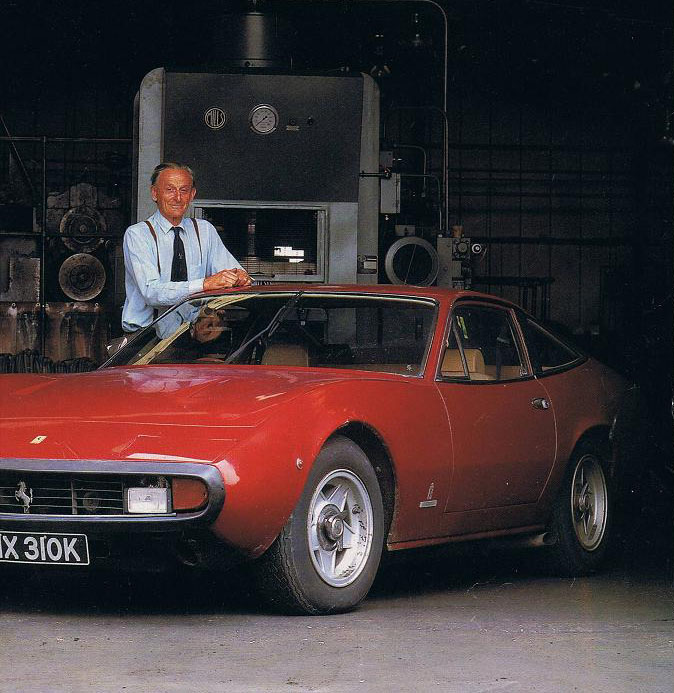 Here is a brief history of our Ferrari 365 GTC/4 that will be undergoing renovation.
Our barn find was originally ordered on the Ferrari factory by the UK agents Maranello Concessionaires in October 1971.  The purchaser was Gerald Ronson – who at the time, amongst his many business interests was chairman of H.R. Owen Ltd.  The sales contact at Maranello  was Mike Salmon, the well known racing driver who drove on many occasions at Le Mans and other important sportscar events. Mike Salmon raced many iconic cars including Aston Martin DB4, Jaguar D-type & XK120, Ford GT40, Ferrari 250GTO & 250LM.
The 365 GTC/4 took longer than expected to arrive in the UK, but chassis / engine No. 15131 was eventually delivered in June 1972. The car was painted Rosso Nearco 2.664.032 It, with leather upholstery in Beige VM 3218 and fitted with Beige carpets. The price paid by Mr Ronson, a good Ferrari customer, was £7,850 less 12.1/2% discount plus purchase tax of £1,964.37 making a total of £8,529.01 . A delivery charge from Egham to London was an additional cost which did not go down well with the purchaser. In response the supplier advised that they had to charge £2 per hour for delivery and the time involved was 3 hours. Incidentally, Maranello Concessionaires paid Ferrari only £4,710 free Italian Border for the car.
The car was launched at the Geneva Motor Show in March 1971. It was a 2+2 (very small rear seats) designed by Pininfarina with a 5 speed box.. The engine type was F101AC with 4390cc  V12 capable of producing 340 bhp @ 6200 rpm. 6 Weber 38DC0E 2 barrel carburettors are fitted. Top speed is 163mph at 6850rpm.
The production run ended in 1972  and by then  505 units were built of which only 50 were RHD.
Aubrey Garton bought the car in 1977 and the car remains in his family and is now owned by his son Tim. Tim Garton is a Director of  www.thomassmithfasteners.com  who supply the classic car industry with BA, BSF, BSW, UNF, UNC, & Metric Fasteners, Bolts & Nuts in all Head Shapes, Material Grades  and Material Types.
Here are links to the articles in this series:
Part 6 -Bodywork, oil & water issues
Part 5 – Replacement door sills and exhaust
Part 4 – Alternator, driving on the roads
Part 3 – Engine, front wing, braking system, MOT
Part 2 – Car history
Part 1 – Introduction